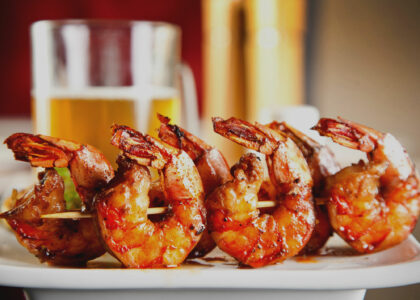 Barbecue Basted Grilled Shrimp
Serves: 4
Cook Source: Grill
Difficulty: easy
Ingredients
1 lb Raw Shrimp, peeled and deveined
Your favorite Jim Beam BBQ Sauce
Instructions
Thread shrimp onto metal or wood skewers.
Heat grill to medium heat.
Place skewers on grill.
After about 2 minutes, apply a light coating of BBQ Sauce with a brush, then flip.
Apply another light coating to the other side of the shrimp using a brush.
Cook for another 2-3 minutes, or until shrimp is pink and opaque.
Remove shrimp skewers from grill.
Remove skewers from shrimp, and place shrimp in a large bowl.
Toss shrimp in your desired amount of BBQ Sauce.
Serve and enjoy.