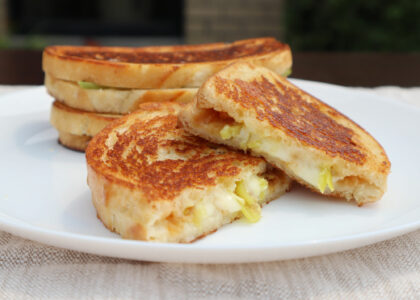 Sweet & Smoky Caramelized Onion Grilled Cheese
Serves: 1
Cook Source: Stovetop
Difficulty: medium
Ingredients
2 slices Sourdough Bread
2 slices Sharp Cheddar
1 Sweet Onion
1 tbsp Unsalted Butter
1 tbsp Cooking Oil
2 tbsp Jim Beam Smoky Barrel Barbecue Sauce
Salt to taste

Instructions
Slice your onion into thin, even slices.
Heat olive oil and butter in the bottom of a thick-bottomed pan.
Once oil is shimmering, add onions, spread evenly across the pan, lower to medium low.
After 10 minutes, sprinkle salt to taste and 1 tbsp of Jim Beam Smoky Barrel BBQ Sauce over the onions.
Cook for 20 minutes until brown and caramelized, stirring occasionally.
Add additional tbsp of Jim Beam Smoky Barrel Barbecue Sauce and let cook for 5 additional minutes.
Remove onions from heat and turn heat off pan.
Butter outsides of the bread.
Place bread butter side down in the pan.
Top with cheese, caramelized onions, and more Jim Beam Smoky Barrel barbecue sauce, and top piece of bread.
Turn on heat, cook until golden brown and flip, cook other side until golden brown.